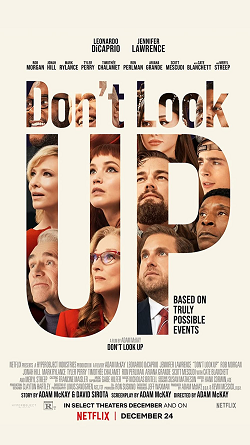 Verdict: 10 out of 10
Don't Look Up's meager 7.3 out of 10 rating on IMDB is most-likely a commentary on the movie's polarizing nature rather than on the film's actual quality. A 75-million-dollar endeavor from Netflix, released straight to streaming, it may be the biggest budget ever for a made-for-Netflix movie. This 75 million bought an all-star cast featuring Lianardo Dicaprio, Jennifer Lawrence, Meryl Streep, Jonah Hill, and Cate Blanchet, to name a few… but the $75-million bought more than actors, as the real star in this film is it's pointed-but-zany script, impeccable comedic timing, and expert direction.
Don't Look Up may be possibly the most important movie of the decade. It is a movie that is likely to be poorly emulated by many movies that follow as producers and film students study it's many innovations and out-of-the-box thinking for years to come.
Continue reading

"Don't Look Up is Possibly the Greatest Single Movie Ever Made"